When you plant mushrooms, there will be a large amount of spent mushroom substrate generated. The cost of mushroom substrate making is high and discarding it directly will cause serious pollution to the environment. So many mushroom growers want to know about what to do with spent mushroom substrate? Using mushroom residues as fertilizer is an ideal choice.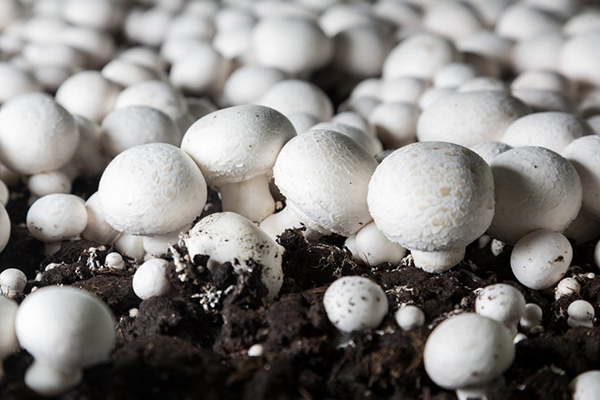 In fact, the mushroom substrate mainly consists of various plant residues, such as cottonseed hulls, sawdust, rice bran, straw, etc. They contain many macromolecular substances like cellulose, hemicellulose, lignin and pectin, etc. And in the process of mycelial growth, enzymolysis will decompose them into small molecular sugars, acids, alcohols, etc. Which have rich nitrogen, phosphorus, calcium, potassium, silicon and other mineral elements and are easier to absorb by crops and plants. So organic fertilizer produced with mushroom waste can greatly facilitate the growth of crops.
How to make mushroom compost?
For mushroom waste disposal, most growers choose to make spent mushroom substrate into compost. There are two reasons. For one thing, composting is the key to making mushroom waste harmless. Otherwise, raw mushroom waste materials will cause seed burning and pest disease. For another, fermentation is the simplest way to make fertilizer from mushroom residues. Then what to do with spent mushroom substrate for compost production?
Top 3 mushroom substrate composting machines for you
Here, you can learn the top 3 mushroom substrate composting machines in SX. From the feedback of our past customers, they can help you complete mushroom compost quickly and easily.
Small scale spent mushroom substrate disposal fermentation tank
If you only want to make mushroom waste compost in a small scale, in-vessel fermentation tank is the best choice. It has a capacity of 71-102 m³. Average it can process 5-12 tons of spent mushroom substrate with a water content of 50%-70% per day. And it can prepare 2-5 tons of composted fertilizer. Moreover, because of in-vessel composting method employment, it can help you finish mushroom compost faster.
If you more focus on the cost of mushroom waste compost, you can choose our groove type compost turner or moving type self-propelled composter. The former adopts a trench composting method and has a turning span of 2.5-5 m and turning depth of 0.6- 1 m. In addition, after preset working model, it can turn over compost pile without worker operation. The latter is more suitable for fertilizer manufacturers who don't want to build fermentation grooves. Self-propelled compost turner employ steering wheel control system and four-wheel moving system, so with a worker operation, it can start mushroom compost on the flat ground directly.
Lager scale mushroom residues as fertilizer composter
But when you plan to setup a larger scale mushroom waste treatment plant, it is advisable to buy our wheel type compost turner. It can work on the fermentation trench with a width of 8-30 m and a depth of 1-3 m. With vertical and horizontal moving systems design, it can fully compost spent mushroom substrate quickly.
What is the cost of mushroom waste compost?
For the cost of mushroom waste compost making, you need to pay attention to material, equipment, area, etc. Then how to start spent mushroom substrate compost at a low cost? SX fertilizer manufacturer can help you a lot.
On the one hand, we are a source factory of mushroom waste fertilizer making equipment. There is no extra charge in the trading process. And as a good partner for you, we will offer you quality mushroom compost equipment at a favourable price.
On the other hand, we will design a mushroom waste fertilizer making plan according to your actual conditions. Of course. Including your factory area and budget.